Page 2 of 2 •
1, 2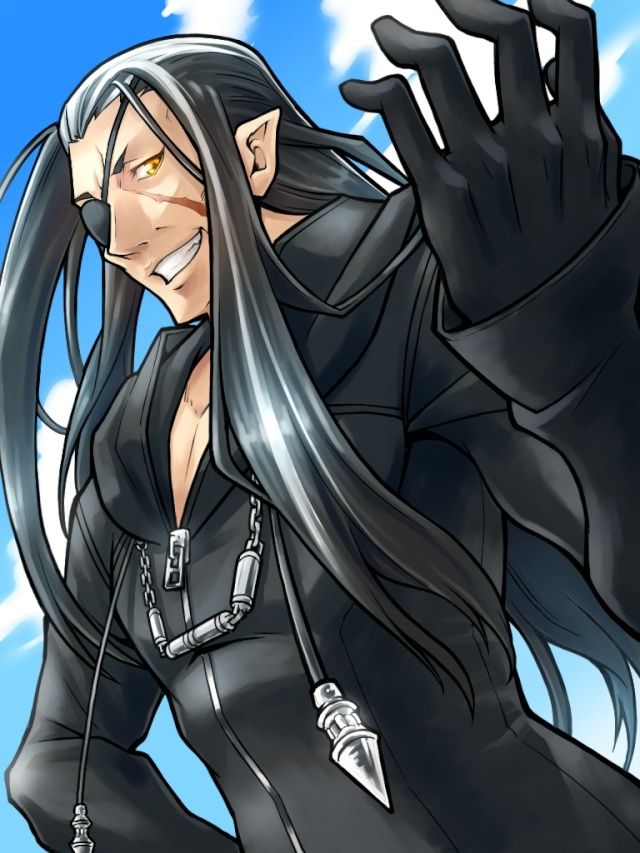 Charon began to smile as the souls slowly began to stop seeping into his body... because he had consumed all of them in the area. His job here was done. Charon turned to Helga and grinned "We're done here! Finish them off Helga!" he commanded her as he pointed to the two magical girls. The man really wanted to let out an evil laugh, because he felt that totally fit the situation, but he wasn't sure he had gotten the laughing part done yet. Thus, he did not indulge in his evil laughter, not yet "Your efforts will be fruitless girls... you can't beat my Reaper... and soon... I will release a spell which will consume all the souls of the dead in this country! I will be invincible! Ahem... in other words- you're all fucked." he told them with a big smile on his face, looking quite confident. Of course, he just told them his plan, but he was pretty sure Helga was going to kill them anyways. That was usually how it turned out, right?
Charon's Theme - Shadow Masquerade
Ruler of Newts





Posts

: 7247


Points

: 7895


Join date

: 2012-05-04



Lady Scythe
Grim Reaper
Serina glared at Helgas words. One day, Iskra would pass on into her final afterlife, but not like this. As the red heads blade made contact with her own, Serina pushed more force into her attack before Helga disentangled her blade. As the girl seemed to be ignoring the ravens still attacking her, Serina prepared to move again, building up her own energy as the girl paralyzed the ravens.
Serina smiled as the red head focused in on her. This way Iskra had more likely a chance of landing an attack on either Helga or the necromancer.
As Charon spoke, Serina felt her anger simmer, at both he and the Reaper in front of her. She directed her words at both Charon and Helga.
I wouldn't count on that. People like you two are always the ones who end up fucked in the end.
Serina rushed at Helga aiming several of her scythe blades still glimmering in the air, as well as a slash from her own blade at the girl. Serina made eye contact with Iskra over Helgas shoulder, silently signalling her to attack. Even if the others had chosen to underestimate Iskra, Serina still saw the girls powers as being useful against the reaper and her despicable master.
D-Rank Super Criminal





Posts

: 1897


Points

: 2100


Join date

: 2013-09-17


Age

: 24


Location

: The Nether and occasionally Wonderland



░░▒▒▓▓Of  all  the  ghosts  in  the  world▓▓▒▒░░
░░▒▒▓▓The  ghosts  of  my  past  are  by  far  the  worst▓▓▒▒░░
⧱Iskra Kristoff⧱
⧰
Death's Angel
⧰
☤-------------------------------------☤
Pray that your loneliness . . . . . . .  . . . . . .
. . . . . . . . . . . . . . finds you something to live for
and something to die for
☤-------------------------------------☤
Iskra frowned as Helga ignored her yet again...however, as the ghost girl made eye contact with Serina, she knew that this was a chance--so long as Helga was distracted, perhaps Iskra could attack Charon...She turned to face the necromancer, watching him for a moment as he monologued, before extending her hand towards him and quietly chanting, "Death's Knell." Black ravens surged forth from her, flying at Charon, clawing and pecking at him. And during the time that the birds were keeping him busy, Iskra sucked up her fear and ran forwards, muttering, "Death's Haze...!" A small glass orb of poison appeared in each of her hands, and the moment she managed to get closer to Charon, she threw both orbs to his feet, shattering them on the ground to send the poison billowing up around him. So long as Helga thought she wasn't a threat--well, Iskra was going to take advantage of that. Charon was the mastermind here--he had to go.
☤--------------------------------------------------------------------------------------------☤
The Whisper of a Lost Soul - Cyberbird
Rookie Hero





Posts

: 6518


Points

: 7317


Join date

: 2013-04-29


Age

: 25


Location

: Maryland, U.S.A.



Helga
The Red Reaper
As Serina rushed at Helga aiming her several scythe blades at the her the red head spun her scythe, and giggled impishly as her blade made contact with a series of clangs. Helga had almost missed Serina making eye contact with Iskra over her shoulder. "What are you... No..." Helga said as she looked back to see Iskar going right for her love. "You birdy bitch!" Helga said as she unhooked the blades and made to kick Serina, which took longer then what she expected, before going for Iskar as the ravens went to attack Charon. "Back away from him! Right now!" Helga shouted in desperation as she jumped over to the ghost her, girl scythe ready to cut her.
B-Rank Super Criminal





Posts

: 3141


Points

: 3345


Join date

: 2012-05-04


Location

: My room



Page 2 of 2 •
1, 2
---
Permissions in this forum:
You
cannot
reply to topics in this forum