Page 3 of 3 •
1, 2, 3
Sai Blackwell
Mysterious Winged Woman
[Level 2]
Dark Assassin
HP 110
MP 110
"Oh yeah?" Sai was interested to hear what they said. When he didn't elaborate she assumed that some of it wasn't all that good. "So to protect everything you can?" Sai asked, as she wrote that down. "Ah... Heroes... Always so willing to help." she said as she closed her notepad. "So this city? Hmmm..." Sai looked up at the sky and thought about it. "So what are your leads? Where is the problem within the city? Do you know where to look?"
B-Rank Super Criminal





Posts

: 3141


Points

: 3345


Join date

: 2012-05-04


Location

: My room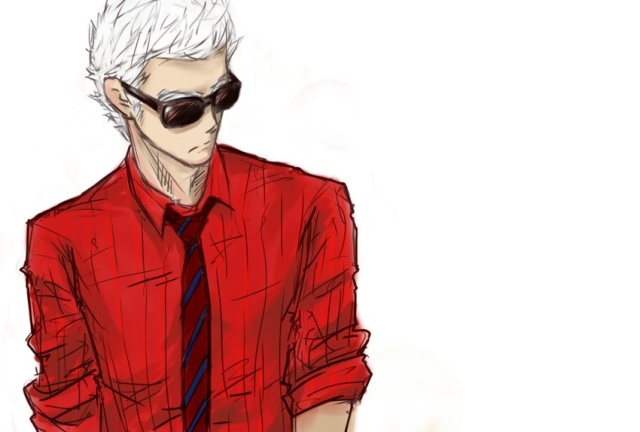 〖Level 1〗
〖Spacial Sorcerer〗
HP // ███████▓▒ 100 / 100
MP // ███████▓▒ 98 / 100
╓════════════════════════════════════════╕
Sting grinned to Sai, raising his glasses for a moment to make eye contact with Sai "All the time. I'm on an expedition right now, aren't I?" yes, he certainly was. When Shadey described Sting... he couldn't' help but feel thankful and offended at the same time "Huh..." Sting most certainly didn't consider himself 'not nice', surely Shadey was wrong. BUT he mentioned that Aerie was indeed a Hero, and for that Sting raised his hand into the air victoriously "Haha! So I was right in assuming she was a Hero! It was indeed all in the legs." he said quite confidently "Shadey let me see your legs-" he added in a blunt tone. And he was about to do just that until the sky was mentioned. Sai and Shadey went back and forth in the conversation, before he let out a loud abrupt cough to let them both know he had something to say too "The sky is indeed disappearing... my superiors sent me here to study the Heroes... but my current research is indeed studying the sky problem. I can confirm Shadey's words to that degree... but I don't know why he believes that Tenebris is connected to it..." Sting always assumed that it had something to do with the Northern Mountains in Brehznov where that demoness used to rule, or maybe even the Wastelands... the south was just a whole land of strange affairs. But if Shadey said the source was Tenebris, he had to really take that to heart "If this is true though... I would like to put my study on Heroes to a hold... the sky presents a much more immediate response... perhaps..." Sting looked to Shadey "Takoda... every city has its secrets... its time to find out just how many this city has... it'll be like that one time I visited your tribe all over again."
╘════════════════════════════════════════╛
Sting Theme - Maze Walker
Ruler of Newts





Posts

: 7247


Points

: 7895


Join date

: 2012-05-04



Sai Blackwell
Mysterious Winged Woman
[Level 2]
Dark Assassin
HP 110
MP 110
"Indeed you are. Though before I would have called you Lost." Sai said with a chuckle as she didn't mind the eye contact. "So what about legs makes heroes so important?" Sai asked with a snicker. She found it funny, and figured it was part of Sting. Yes he seemed more and more like a hero to her. One that was in denial, but a hero. "Yes Sting?" Sai asked as she heard him cough. "Sky disappearing... I think I've heard of this." she said though not much detail was revealed to her. Sai listened as Sting decided to put his study on hold. Sai smiled at Sting, "And to think people thought this was a normal city with nothing ever happening in it." Sai commented as she stepped back and looked at Aerie. "So... How's life?" she asked just because the girl looked bored out of her skull.
B-Rank Super Criminal





Posts

: 3141


Points

: 3345


Join date

: 2012-05-04


Location

: My room



Aerie Rosenthal
*The Scarlet Hunter*
-------------------------
"Don't you worry, now... I'm here, and I'm going to make sure the monsters hiding in the dark don't hurt anyone anymore!"
-------------------------
HP // ███████▓▒ 100 / 100
MP // ███████▓▒ 100 / 100
-------------------------
Aerie really didn't move or talk as the others discussed what had been going on, not really sure what sort of input she might have anyways. She was just... there. She was looking for work, not trying to save the world, at least in her eyes- and then she got dragged into this whole mess... She sighed a bit, allowing Shadey to wave her arm around as he claimed she was a hero, which she wasn't sure she really believed- but hey, why not? Though, when Sting mentioned legs, her lip curled a bit and she took a step back, not wanting to be too close...
Only for Sai to step back to and talk to her, making her raise a brow in surprise. "... Okay...?" she replied softly, shrugging a bit as she crossed her arms and sighed. Why did she have to end up a part of this...? Just why...?
C-Rank Super Criminal





Posts

: 2039


Points

: 2215


Join date

: 2013-07-18


Age

: 21


Location

: Nope c:



Page 3 of 3 •
1, 2, 3
Similar topics
---
Permissions in this forum:
You
cannot
reply to topics in this forum