Page 2 of 2 •
1, 2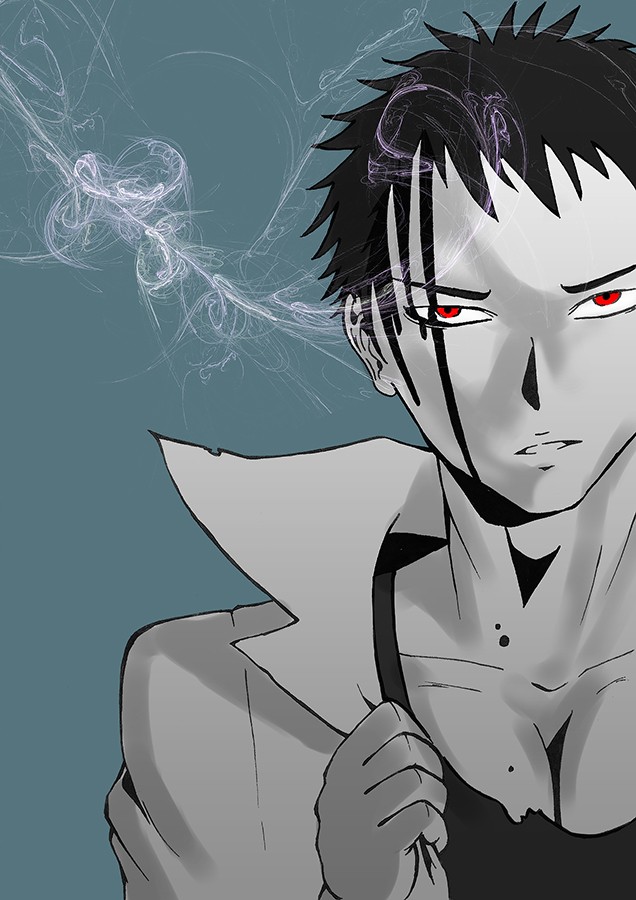 ▬▬▬▬▬▬▬▬▬▬▬▬▬▬▬▬▬▬▬▬▬▬▬▬▬▬▬▬▬▬▬▬▬▬▬▬▬▬▬▬▬▬
Fritz nearly jumped as Ophelia suddenly told him not to be the depressing guy that he was. His eyes widened as he stared at her before letting out a sigh and looking away from her with his hands in his pockets "My own foolishness led to this... I'm not even human anymore, how can I not let something like that get to me?" he asked before shaking his head then turning back to her. Trying his best to ignore the clanging, the man let out an exasperated sigh as he scratched his head "Now I'm starting to regret phrasing myself that way-" he joked in regards to Ophelia's response to him saying he was in her debt. When she started to eat, Ruthven merely leaned against a wall and closed his eyes. He let her eat, he didn't want her to feel uncomfortable just because he couldn't eat. Once she was done, Fritz opened his eyes and followed Ophelia into the living room. He gave her a nod accompanied with a determined look in his eyes "I'm ready."
▬▬▬▬▬▬▬▬▬▬【The Living Vampire】▬▬▬▬▬▬▬▬▬▬
"ǀ ѕєαяcнє∂ ƒσя α ωαу тσ cυяє αℓℓ ∂ιѕєαѕєѕ... ιηѕтєα∂ ǀ cяєαтє∂ тнє мσѕт ∂αηgєяσυѕ ∂ιѕєαѕє ση єαятн...."
Doctor Ruthven's Theme - Moon Presence
Ruler of Newts





Posts

: 7247


Points

: 7895


Join date

: 2012-05-04



☢ Ophelia Arden ☢
★ Chemist Extraordinaire ★
♦♦♦♦♦♦♦♦♦♦♦♦♦♦♦♦♦♦♦♦♦♦♦♦♦♦♦♦♦♦♦♦♦♦♦♦♦♦♦♦♦♦♦♦♦♦♦♦
"Oh, glazed eyes, empty hearts....................................
...................................Buying happy from shopping carts
Sipping life from bottles."
♦♦♦♦♦♦♦♦♦♦♦♦♦♦♦♦♦♦♦♦♦♦♦♦♦♦♦♦♦♦♦♦♦♦♦♦♦♦♦♦♦♦♦♦♦♦♦♦
An over exaggerated sigh emerged from the kitchen as Fritz made his depressing comment, before Ophelia clucked her tongue loudly. "Because we're gonna fix it!! So you messed up, we all do that. You're gonna get better and everything will be fine-! You'll see." She glanced around the corner with a bright smile, humming as she finished up in the kitchen - and laughed at his next response. "Yeah, see, worry about how you phrase things around me! Because I'll sure as hell take advantage!" Her voice was teasing as she grabbed a pale pink messenger bag, stuffing a notebook in it before slinging it over her shoulder and snagging her keys. "Alright, come on!" She led the way out to her car, hopping in and starting the engine. As soon as Fritz got in - and buckled up, she insisted - she pulled out, turning on an overly cheerful song on the radio, though luckily not too loud.

It only took a few moments before she parked near a strange looking building, giving instructions for Ruthven to stay put as she got out and skittered inside. She took maybe ten minutes before she returned, holding a small cooler and beaming at him as she approached the car. "I knew I'd be able to get access - I just tell them I need it to test my chemicals and they give me enough for now, at least," she explained vaguely, climbing in and setting the cooler in the back - yet she opened it and grabbed something from inside, before chucking it lightly at Fritz. "... I figured it was worth a shot. You can step out if you want, or I can, y'know. For privacy." She gave him a soft, almost nervous smile as she waited for his reaction to the small bag of blood she'd just delivered in his lap, closing the cooler slowly. She hadn't told him her intentions because she didn't want to hear his protests - yet if it worked... if he was able to drink it - it'd stay off the risk of human injury for a while, at least, though she knew they were a bit hard pressed for blood as of late. She mostly got the stuff that was edging towards being too old - not quite there, yet, but close... though there wasn't even much of that, given how much they'd used as of late. Still, she had her methods - and hopefully... it'd help.
------------------------------------------------------------------
Ophelia's Theme - Happy Little Pill
C-Rank Super Criminal





Posts

: 2039


Points

: 2215


Join date

: 2013-07-18


Age

: 22


Location

: Nope c:



Page 2 of 2 •
1, 2
---
Permissions in this forum:
You
cannot
reply to topics in this forum