Deep in the jungles of Mexico, it is said that there is a collection of treasure more glorious and beautiful than any other in the world. There are tales of a hidden cave of Aztec gold, as far as the eye could see! It was brought to the cave long ago, in an effort to hide it from the plundering Conquistadors as the Aztec Empire began to fall apart. Originally, this legendary treasure was highly sought after, but as centuries past, the treasure was reduced to a mere legend before it faded into a local myth. It is now 2015, and the treasure has been reduced to but a story... or so most think. They call him Señor Leopard, a renown gangster and head of the Diablo Cartel. After his men discovered a treasure map, said to lead to this legendary treasure, the man himself and a small team of his elite soldiers head into the jungle. Little does he knows about dangers that lurk within the jungle, a mysterious super hero, and the treasure's guardian...

Deep within the jungles of Mexico, a trail of rather sinister figures traversed. They were dressed for such a climate and had large backpacks, indicating they had prepared thoroughly for their journey. They used machetes to clear the path before them, and at the forefront of them all was a giant of a man who stood out. Unlike his colleagues, he was dressed in a fine suit, he had a bushy mustache that practically oozed machismo, and a leopard-print mask that concealed his face. "This trip has lasted days!? Are you sure we aren't on some wild-goose chase boss?" one of the adventurers spoke out as he looked back to the masked man, whom replied with a determined look in his eyes "Do not fret my friend... we are close... as the legend and this map describe... untold riches await us in a cave down the river..." this man's words, which struck his associate's very cores with his words, seemed to be the very definition of charisma. It wasn't even the words he was speaking, but his stature, his size, his looks, the man just seemed to inspire men and women around him. It was for this very reason that he had become such a powerful figure in the criminal underworld. His words seemed to drive the men forward, in hopes of finding untold treasures. This of course, all came to an abrupt stop as they heard screaming from the back of the line. The men all turned in unison to see one of his own, slowly being pulled into the ground. Quick sand. "No!" one of the man attempted to grab his ally, nearly falling into the quick sand as well. However, the masked man quickly caught him, saving him from a shared demise with his colleague. A quick head shake from the boss later, they continued, leaving their friend to his own demise. Following such a sudden death, the man were in poor spirits, luckily, they had found just what they were looking for soon after... the cave. The man all stopped to look at its glory, all but one of course. The masked man continued to walk in as his croneys stared in amazement at the size of the cage, and the ancient statues that stood outside of it. However, eventually they realized their boss was moving without them, and the men were all quick to follow. Unfortunately, they lacked the raw instincts of their boss, as one of them seemed to trigger a trap. Spears shot out from the walls towards the men, all they could do was scream in horror as their demise was brought upon them... but it never came. They all stared in shock as they saw it: their boss had caught the spears with his bare hands! Once he caught them and momentarily stopped their progress, he simply snapped them in two like they were flimsy toys. It was at this moment they they knew it! This was their ticket to success! They were smart to align themselves with the Diablo Cartel! Oh, and then another trap was triggered. Once more, screams filled the cave as a gigantic boulder dropped from the ceiling and began to roll towards them! The men were sure that they'd be dead this time! This was it! Their end was upon them! The masked man shook his head as he let out a sigh "This is getting... tiring..." the man moved his arms in front of him, showing his claw-like hands before leaping out towards the boulder. In two clean swipes, the stone had been cut in four! Each of it's peaces harmlessly fell to the side. The man all watched in amazement! This was what it was like to be in the presence of the infamous Rudo, Señor Leopard! Leopard continued his advance into the tunnel, without even looking back on his men. They followed, but eventually one of them stepped on a skeleton causing it to fall apart. The noise that accompanied it startled the men, who all shirked in fear! Señor Leopard turned back to look at his men, shaking his head before speaking once more "Eeeeh... maybe you guys should wait outside...?"
"Please, sit down, have a drink. We have business to discuss..."
Leopard's Theme - Built to Fight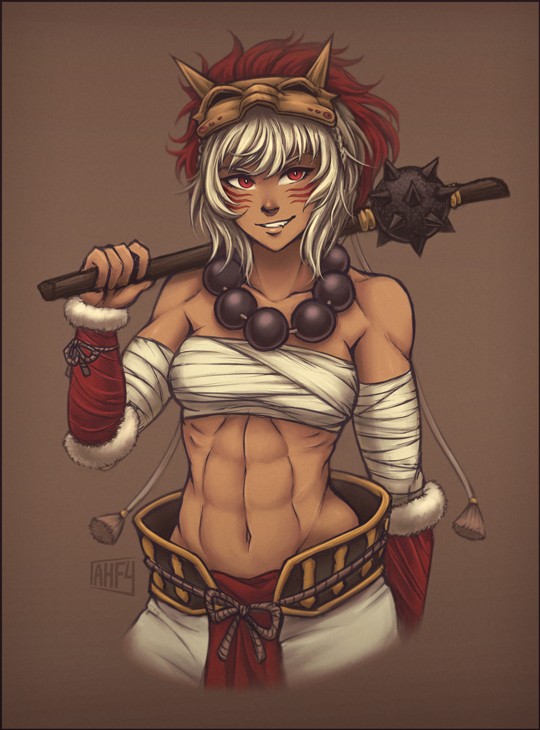 Axolotl
Guardian of the Treasure
┈┈┈┈┈┈┈┈┈┈┈┈┈┈┈┈┈┈┈┈┈┈┈┈┈┈┈
Somewhere in the jungles that surrounded the cave, Axolotl was hunting. The girl had been raised in this remote area, where she had no contact with the world outside of her immediate family, her tribe. As such, she had no reason to suspect that there were other people outside of her immediate, and now late, family...other than the fact that she was still supposed to be protecting the treasure of the gods. If she was still there, it was evidently to protect the treasure, and if she still had to protect it, then there must have been someone to protect it from. Unfortunately, Axolotl didn't expect that the day to carry  out those duties would be today, and so she was doing her weekly hunting when she heard the screams coming from her cave-

"What's that, spear? You hear it too?! The Gods do know what they're doing!!"

It should also be noted that Ax had become rather lonely since her family died, seven years back, and so had gotten into the habit of talking to random objects and animals. So it was a rather chatty way back to the cave as the girl warned the trees and the vines that there were intruders and she'd have to take care of them- it was a good thing she remembered to set up traps.

"Quiet now, everyone, gotta check-"

The language she spoke had the smallest similarity to Spanish, but was still mostly incomprehensible, which meant it was good that she was whispering everything, or Leopard's men would surely have realized that they were up against relatively alien forces. Creeping in the foliage, she watched attentively as the men waited outside- that didn't look like intruding...but they were looking inside...so she sort of blurted out a battle howl and ran into her cave, hoping to shock the men into not attacking her as she went. Rushing to a boulder that she used as a door during the winter, she pushed it to the opening of the cave, shutting off the men. Little did she know that she was shutting herself in with Señor Leopard- instead she was going around lighting candles made out of her own earwax, her calloused hands used to the burns of friction bestowed upon her for spending so long hitting two rocks together to light each candle.

"Come on, beauties, got to have some light.. How are we feeling today? Oh the men outside? Don't worry about them, Axie's taking care of them.."

┈┈┈┈┈┈┈┈┈┈┈┈┈┈┈┈┈┈
❝
I live for my heritage- oh, you get it, don't you tree?
❞
Amnchee





Posts

: 2785


Points

: 10531


Join date

: 2013-04-30


Location

: Under your bed




The men heard an unnatural and terrifying howl, no doubt from a vile and monstrous Chupacabra! They screamed and ran, and in their panic, they didn't even realize that their path had been blocked off. Meanwhile, Señor Leopard just sort of kept walking. Mostly because he had gotten sick of their constant crying. He should have brought some of his real men with him. Mental note: sometimes hiring budget goons didn't lead to the best results. The man did, however, notice as his path was blocked. Not that he cared much about that, he had destroyed a boulder a few minutes ago after all. The man stood there silently, watching Axolotl light some candles before finally speaking "I must be thanking you ma'am... I was planning offing those chumps after I found the treasure anyways..." Señor Leopard believed himself to be a fair businessman, fair being the keyword. But those pathetic losers deserved nothing more than an old-fashioned stab in the back from a gangster. His fists tightening, Señor Leopard shot a charming smile to the woman before speaking up loud "How about you go show me the treasure? I believe that will make this all so much easier for the both of us..."
"Please, sit down, have a drink. We have business to discuss..."
Leopard's Theme - Built to Fight
---
Permissions in this forum:
You
cannot
reply to topics in this forum