Page 9 of 9 •
1, 2, 3, 4, 5, 6, 7, 8, 9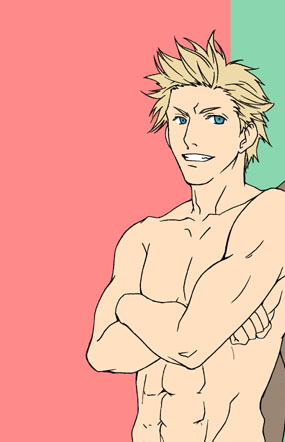 Nathan Crockett
___________________________________________________________________________________________
Nathan pretty much ignored Simon, choosing to stay a proud nudist to the end. Instead, he focused on Eve, whom at the moment probably needed some sort of guidance 'OKay- yo- so we can't stay at the strip joint for long- so much as I fit here, we need to cut our losses and fight back quickly..." he told Eve, trying to catch her attention. This allowed him to hear Eve's low words, it was true, they were definitely at a low point at the moment "Hey... hey... listen here... I know about the thingy thing alright? Charles only recently found out about the third piece... from what I've heard he hasn't found out where the 4th piece of Heavenly Treasure is, we have time!" he reassured her, Zombie was never one for brooding in dire situations. He'd be an annoying, depressing shit in times of boredom, but when the fate of the world was at stake Zombie realized what he needed to be like. So he pat Eve on the back (roughly) and smiled to her "We need to get to Vulture Team... at this point the only hope we have is if we channel our powers together, yeah-?" before he could say anymore, he caught Paul's words in the background. His depressed, self-pitiable words almost immediately annoyed Zombie, whom dropped down to his undone clothes and grabbed a handgun. he immediately pointed it at Paul, grimacing to him "HEY! Shut the fuck up with that depressing shit or I"ll shoot your fucking head off!" he yelled to Paul "Just shut it, no one is here to pity you. Be a man or die a pussy." he spoke coldly, before turning back to Eve "We can't waste time thinking this through sadly... we need to move out soon Eve..."
__________________________________________________________________________________________
"Come on... kill me... just try and kill me! I'll blow your head off before you take another step...!"
Zombie Theme -I'm Here to Show the World
Ruler of Newts





Posts

: 7247


Points

: 7895


Join date

: 2012-05-04



Scia Scripture
The Red Librarian, of The Diamante Family
Scia's Theme - Tears of The Soul
Scia smiled as Simon pulled her closer, she hadn't seen him in a few days and she had been worried as well whether he made it out of whatever had happened in the Mansion... She pulled his head in closer... I worried about you as well... she kissed him on the cheek again then raised an eyebrow as he mentioned someone named Gunnar... who was he so worried about... Here... is this who you're thinking of... she pulled out her report of the battle between the Patriots and Vulture team on Baker Street, she had logged in notes about the individual fights and had taken notice of a man who looked oddly similar to Simon in certain ways.
E-Rank Super Criminal





Posts

: 1190


Points

: 1252


Join date

: 2013-09-17


Age

: 24


Location

: Where Legend Fades to Myth



Simon Blackquill
Distorted Samurai of the Leone Family
Hmph. Those who dare to stand in my way, soon find themselves cleaved in two by the Sword
Simon's Theme- The Law's Distortion
Simon took a look at the notes and nodded. So Gunnar had fought with Vulture? Impressive to say the least.
"Yes...that's him...my younger brother...we'll talk more on this later. For now, let's listen." he whispered, turning his attention to the words Zombie was saying. That they should join forces with Vulture, and Paul was a puss. Both were true facts.
"How do you intend to get Vulture to allow us refuge, if we were to go with this plan, sir?" he asked, kind of not remembering his name at this point.
Champion of Newts





Posts

: 5600


Points

: 6187


Join date

: 2012-05-05


Age

: 27


Location

: At a place



Paul McAllister


Mr.Magnum
Paul kept on being mopey when he heard Zombie yelling at him. As the gun was pointed at the green hair man, all he simply did was stare at Zombie as he waited to see if the man would pull the trigger. His eyes were serious as he dared the man in his mind to pull the trigger. If he was so pissed off at him he would do it right? Except that it didn't happen as Zombie went back to Eve as Paul stayed silent and turned back to where Masaru was. "So ummm..." He scratched the back of his head as he was trying to find out what to say next. "Hows the kid doing?" Paul did a nervous laugh as he hoped that was the right thing to ask at this current moment.
D-Rank Super Criminal





Posts

: 1575


Points

: 1554


Join date

: 2013-07-09


Age

: 25



Mariko Hattori
*Mrs. Lotus*
-------------------------
"I've trained my entire life to protect and serve my superiors... You'd better believe I'll keep them safe!"
-------------------------
Mariko had followed Masaru into Heaven Again quietly, looking troubled- the loss of Highend was... painful, really- something she'd never expected to experience. She normally didn't consider herself so concerned about material possessions- but they had lost a lot by losing their home, and it seemed to strike her as more severe with the addition of a child to her and Masaru's little family... She tried to shrug it off though, standing behind Masaru with a hand on his shoulder- and on the other shoulder, her chin. Her hand reached around quietly to stroke Kai's cheek, and she sighed, but stayed quiet as Masaru and Paul talked- though as Zombie shouted at Paul and aimed a gun his way, she scowled and shifted, sliding forward just enough to be between the barrel of the gun and Kai. She didn't trust Zombie enough to allow him to point weapons anywhere within the vicinity of her child... She didn't even seem all that concerned by his nudity- she just didn't look anywhere she shouldn't. She wasn't interested- Masaru held her interest in that regard, and considering Kai was a boy, that didn't bother her...
But the gun certainly did. She tried to push off the protective feeling for a moment though- after all, this blonde man had just helped them, and seemed to be trying to help them more... an action she appreciated. "Kai is doing just fine," she replied, in response to Paul's question about 'the kid'. Her attention was now back on him- and she gave him a bit of a critical look, still a bit wary after his words when she first brought Kai home.
Sophia had been dragged into Heaven Again right behind Kayden, almost stumbling a few times for his enthusiasm- but once he stopped, she bit her lip, smoothing down her skirt. She wasn't going to complain about Kayden's yelling and seemed craze- it was clearly hard for him, and... she almost felt bad for asking so much of him. When he went quiet though, she glanced up, meeting his eyes- before he looked away some and adjusted himself, clearly trying to tone it down. She quietly stepped closer, then, resting her head upon his shoulder. "... It's okay, Kayden... I know it's not easy... I don't expect you to be perfect- I... I d-don't even expect you to change, I... I d-don't want to make you change..." she mumbled, finally voicing that nagging feeling if only because she had proof thanks to all the chaos that he was struggling... and she was afraid she was the only reason why. She could make sacrifices... if it meant he wasn't trying to become some image he had of 'improved' or trying to change to make her happier. They seemed to be losing everything- they'd been run out of Highend... the last thing she wanted was for Kayden to lose himself as well.
Sophia Harper
*Blackout*
-------------------------
"Oh, hello there! I think I know you... Oh, right! You're the one I'm supposed to kill now!"
-------------------------
C-Rank Super Criminal





Posts

: 2039


Points

: 2215


Join date

: 2013-07-18


Age

: 21


Location

: Nope c:



Eve Falcone
The Kingpin / The Don
❝ lacrimosa, once again
i will love this blood-soaked land
where i was born  ❞
______________________________________________________________________________________
Eve peaked up just hardly at Zombie`s words of encouragement- mutely blinking, her lips parting just slightly in surprise. "...That`s a relief... maybe if we could find them first..." She mused dryly, staring down at the bar with swimming thoughts and an intent expression. The very slight nudge of support Zombie supplied her with was enough to bring the small smile back to her face- so long as there was just the slightest bit of hope, if they could just fight hard enough-- victory was still a possibility. She knew she couldn`t afford to get into another rut- they either fought now or didn`t fight at all.
She flashed her smile Nathan`s way as he roughly patted her back- which she didn`t seem to so much as budge from. She was pretty firmly supplied with strength enhancing cybernetics, after all-- she could hardly feel it. Eve had been so busy with her pumped up inner monologuing, that she hadn`t noticed Zombie aiming a loaded gun at her strategist until it was a bit too late- but even when she did notice, she didn`t have much to say about it. Asking Eve to genuinely care about most people was asking too much, quite frankly--
She focused on centering her breathing a bit, her body still singing with pain as a result of her scuffle with Charles. She really couldn`t afford to be injured right now-- they had to keep active and moving. As Nathan returned his attention to her, Eve peaked up again- then smiled, nodding energetically-- a gesture that hurt much more than it was worth. "The sooner we can get out of here, the better! I suppose you have connections, though...? Last time I walked into Carrion Land all willy-nilly, people weren`t so happy about it...!" Eve knew very well that Vulture Team`s previous leader was not her biggest fan- and the feeling was mutual on her end. Ryder, however, was a very different story-- they hadn`t spoken much... and with how reliable Vulture Team was in dire times- heading their direction was most likely a good step back to the top. She may have had a smidgen of a pride issue concerning Vulture Team taking the Family`s place as the top dog before- but, when her city was at stake-- Eve was very easily capable of setting all that aside.   
______________________________________________________________________________________
♥
The Kingpin`s Theme - Lacrimosa
♥
Champion of Newts





Posts

: 2825


Points

: 3257


Join date

: 2012-05-09



Atticus Benedict
Who are you...and why do I feel such hate coming from you...?
Atticus' theme- Reborn in a Cloak of Metal
Atticus found a footman to take him to where the rest of the Family was. At least someone waited. He walked in, kind of staggering since his chest cavity had caved. It showed with the amount of blood. Or...Fau Blood...whatever. He sat down, panting.
"Evening..." he muttered, coughing. He knew he was late, he didn't care. He was in god damn pain. For the first time in a long time.
Champion of Newts





Posts

: 5600


Points

: 6187


Join date

: 2012-05-05


Age

: 27


Location

: At a place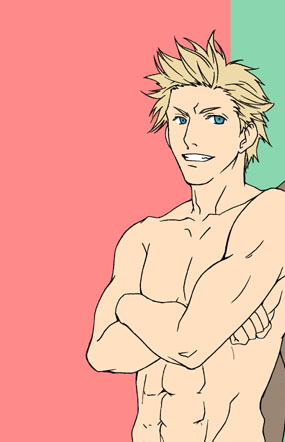 Nathan Crockett
___________________________________________________________________________________________
Nathan gave an affirmative nod to Eve in response "Girl you know I've got all of the connections! It comes with the job..." and by job he meant flirting and dating any girl he saw as cute, because really Chelsea was his only real connection to Vulture Team. Otherwise they'd probably shoot him on sight, so he was banking on Chelsea helping him out. So then Nathan jumped up on a table, and let out a loud "AHEM!" to get everyone's attention "Hello people-! I have no idea who you are... all I know is that I THINK I shot at you guys a few months ago? Maybe? That ring a bell? I don't remember every chump I shoot sorry. Anyways we can't really be staying in this strip club for long-!" he looked over to Simon "Yeah, I know, I'm sad too! But we've gotta get to work." he spoke, as if Simon said or indicated he was saddened by the loss of strippers in any way, shape, or form "We've got to fight back! And to do that we have to put our differences aside and work with Vulture Team! I'm not sure if Eve has told you anything but Charles having Highend is a VERY, VERY BAD THING! Like seriously, if you guys like your brains, you should be against that! I'm sure many of you hold grudges against Vulture Team... many of you would rather see them wiped off the map. Well now its time to suck it up and deal with it like an adult. Because when something greater is at stake, you need to leave your petty differences aside-!" he then looked to Paul, pointing him out "Except you, I hate you. You can go die." then back to the crowd again "So we're going to Carrion Land NOW! And we're gonna go make some new friends NOW! And anyone who thinks otherwise can either deal with the barrel of my gun or the bottom of Eve's heels! Either way it'll hurt like hell and probably kill ya! Let's goooo!" Nathan then enthusiastically jumped off the table and walked over to the entrance, completely ignoring Atticus.... placing a bomb on it, blowing it up, then casually walking out "Nailed it." they'd have to make a bit of a walk, but Zombie was going to lead them to Carrion Land. Only with Vulture Team could they truly do any damage to Paladin, especially with The Family's current predicament.
(EXIT NATHAN, EVE, SOPHIA, MARIKO, AND ANYONE ELSE WHO FEELS LIKE LEAVING WITHOUT AN EXIT POST)
__________________________________________________________________________________________
"Come on... kill me... just try and kill me! I'll blow your head off before you take another step...!"
Zombie Theme -I'm Here to Show the World
Ruler of Newts





Posts

: 7247


Points

: 7895


Join date

: 2012-05-04



Paul McAllister


Mr.Magnum
Paul kept on rubbing the back of his head nervously as Mariko answered. He gave her a nervous grin as the look she gave him felt like he was going to die at any second. Man he messed up good. Befre he could do anything else, Zombie got his attention as the man started to sputter stuff and wait Vulture Team? They need their help? He looked at Eve and saw that she meant business as he nodded. When Nathan told him to go die, Paul just brushed it off as he didn't care what the man thought of him at the current moment. He would follow whatever it is that Eve wanted and so it would be that way.
*Exit*
D-Rank Super Criminal





Posts

: 1575


Points

: 1554


Join date

: 2013-07-09


Age

: 25



Page 9 of 9 •
1, 2, 3, 4, 5, 6, 7, 8, 9
---
Permissions in this forum:
You
cannot
reply to topics in this forum