Page 3 of 3 •
1, 2, 3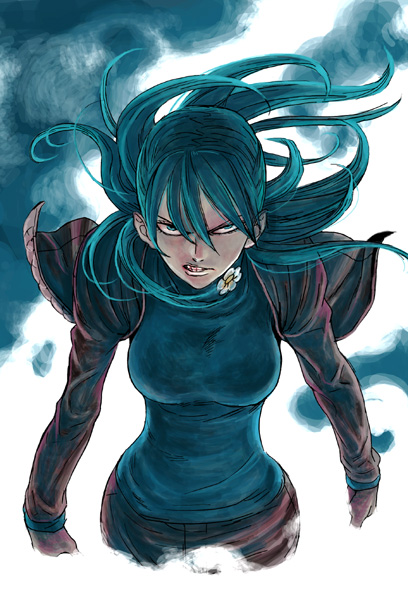 Ghost
___________________________________________________________________________________________
Ghost let out a sigh when Ivy questioned her "No one's been impersonating you... dear sister..." she hummed, glaring to the greenette with a look of annoyance. But nothing made her more annoyed then Ivy's stubborn reluctance against Armageddon "Come'n! I've seen that persona already! That Inquisitor shitbag gave it to yeah, right? Right!? What if I told you that was a load of bull!? What if I told you that Armageddon is the REAL you!?" she barked out, not so much as blinking in the face of the explosion Ivy threw. Once the munitions erupted in Ghost's face, she flipped back, before running on the side of the walls, using the smoke from the explosive as cover. She then jumped from the wall, flying towards Ivy and attempting to cut at the wrists of the arm Ivy threw the explosives with "Now now now! What'll it take yah to go batshit? And I don't mean any of this cartoon Tom and Jerry bullshit... I mean, its funny and all, but fucking useless." she landed back on her feet, continuing her glare aimed at the greenette "Come on... show me the madness. Its the least you could do for me considering I'm not allowed to kill you..."
___________________________________________________________________________________________
??? Theme - Throw it All Away
☣  ☠  ☢    ﹋﹋﹋﹋﹋﹋﹋﹋﹋﹋﹋﹋﹋﹋﹋﹋﹋﹋﹋﹋﹋﹋﹋﹋﹋﹋﹋﹋﹋﹋    ☣  ☠  ☢
Ivy didn't find anything weird with Ghost's words at first. Obviously the woman was just wrong and she was actually being impersonated...

"Arma is a Gumby-possessed fiend that the Inquisitor created to fuck with my brain! She isn't anything reallll! She's kind of super gay and licks shoes in her spare time!"

She said, sounding absolutely certain...except for that last sentence. Not so certain about that. The explosion threw her back, so the first knife did nothing, but she felt the second one slice into her wrist, and blood started spurting out, as blood from wrists often does. The greenette stared at the stream of blood for a few moments...then back at Ghost. Then she turned her arm so the stream of blood went straight into Ghost's face.

"CHOCOLATE RAIN?"

She grinned, evidently not noting how much trouble she was in if she didn't stop the bleeding soon. Then her eyes widened as a single word registered in her brain. Sister.
The greenette's pupils dilated, but her arm did not move, still spurting blood at Ghost. She was unusually still.

"...Sister?"

☣  ☠  ☢  ☣  ☠  ☢  ☣  ☠  ☢ ☣  ☠  ☢  ☣  ☠  ☢  ☣  ☠  ☢  ☣  ☠  ☢  ☣  ☠  ☢  ☣  ☠  ☢  ☣  ☠  ☢
❝ Fuck you, Gumby! ❞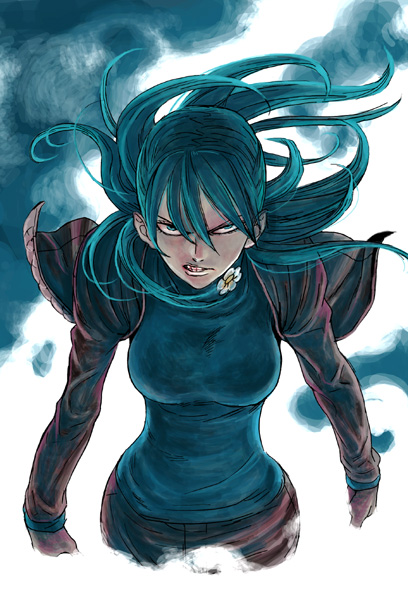 Ghost
___________________________________________________________________________________________
Ghost seemed to not mind the blood, in fact, as it spilled onto her face, and more important onto her knife, she seemed somewhat happy, a thin grin seemed to break out on her face. She lifted her knife, staring at it for a few moments before licking her knife clean "Hmmm..." her face turned a light pink, as if she was blushing "You blood tastes good sister~" she chirped, brandishing the blade as she walked closer "That's right... sister... we have many brothers and sisters in this city... I'm just going about visiting them all... however you do seem somewhat more advanced than the other cases... if only I could get Arma out... she's the one I want to see~" near the end of her sentence, Ghost's words seemed to get sweeter and sweeter, in anticipation for Armageddon's appearance, the real 'sister' to which Ghost seeks out. She moved closer to Ivy, giving her another hug "You and me are connected you see... we're above this filth... we are the pinnacle of humanity..." she kissed Ivy on the cheek, leaving behind a bloody lip mark "Under father... you could be so much more... but rejoice, sister. I am here to retrieve you, to bring you before the holy father so that you may confess your sins and be reborn. Of course... if you say no... I can always force you, which is SO much more fun~!" she continued, still keeping her knife within Ivy's sight to constantly remind the greenette that she could be bleeding out even more than she already was.
___________________________________________________________________________________________
??? Theme - Throw it All Away
☣  ☠  ☢    ﹋﹋﹋﹋﹋﹋﹋﹋﹋﹋﹋﹋﹋﹋﹋﹋﹋﹋﹋﹋﹋﹋﹋﹋﹋﹋﹋﹋﹋﹋    ☣  ☠  ☢
Ivy continued staring at Ghost, her gaze becoming almost vacant. She could feel Arma clawing at her brain, trying to take control. Ghost's presence, her words, they seemed to make Arma more restless. The greenette's curiosity coupled with her quick physical deterioration due to the bleeding out was making the somewhat more human Ivy weaker. For a moment, a red light flashed in her eyes that indicated Arma's presence, manic and bloodthirsty, but Ivy shoved her alter ego back down, clamping her hand around her bleeding wrist to stop the red stream.

"Whatever you are...I'm not like you. My...my father isn't a thing! I don't have a family, stupid, turtlepus flavored motherfucker!"

She cried, glaring up at Ghost from the hug, cringing away from the bloody kiss planted on her cheek. She was struggling to keep Arma at bay, something she never thought she'd have to deal with again after all of the Inquisitor's machinery was safely out and she had had her time to heal with her friends in Vulture Team. At this rate, she wouldn't be able to hold on much longer, and she felt that inquiring further into this would only make it more difficult..but she was a scientist at heart, and the woman's words puzzled her. She needed more data.

"...But I wanna see who you're talking about, so I can tell him to his face how stupid he is! I'll do the thing if you SHUT UP about the other thing. The sister thing. I'm not anyone's sister..."

☣  ☠  ☢  ☣  ☠  ☢  ☣  ☠  ☢ ☣  ☠  ☢  ☣  ☠  ☢  ☣  ☠  ☢  ☣  ☠  ☢  ☣  ☠  ☢  ☣  ☠  ☢  ☣  ☠  ☢
❝ Fuck you, Gumby! ❞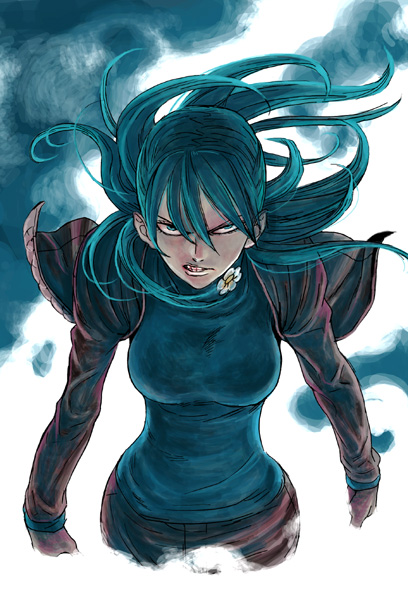 Ghost
___________________________________________________________________________________________
"Oh I can assure you -our- father is a very real thing..." Ghost retorted in a matter-of-fact way, before looking into her eyes, seeing signs of the Killer Gene that she-oh-so-wanted. She was a corrupter, someone who took pride in breaking down even the more chivalrous of individuals, and once they were broken down, she'd remake them however she wanted. This was just the case "Oh I -do- think you won't do that... in fact... I know exactly how you'll behave..." she spoke, circling around Ivy "You're going to LOVE father, you're going to serve him and in return you will understand who you truly are... but before that... you're going to slaughter everyone you hold dear to you in life first..." she whispered in Ivy's ear, before her eyes turned a bright red that glistened in the night, eyes she should feel are familiar, as if looking in a mirror "As a matter of fact... I'm sick of third-raters like Charles and Xiu having all the fun... I have an idea sister! Let's say the both of us go and kill everyone here!? I think it'll be fun! These subhumans have it coming! They -all- do...! So how about we put on a performance that'll shock everyone~!?" she grabbed Ivy by her collar, lifting her up and staring into her eyes as she showed a contradictory friendly smile accompanying her malicious words.
___________________________________________________________________________________________
??? Theme - Throw it All Away
☣  ☠  ☢    ﹋﹋﹋﹋﹋﹋﹋﹋﹋﹋﹋﹋﹋﹋﹋﹋﹋﹋﹋﹋﹋﹋﹋﹋﹋﹋﹋﹋﹋﹋    ☣  ☠  ☢
Ivy hissed at Ghost as she got closer and kept saying things. The Ives wasn't enjoying the things, they were starting to get to her, and she brought her hands to her ears, which meant she wasn't applying pressure on her wrist anymore and the steady stream of blood started flowing out of her again. Black spots were starting to appear in her vision, but she kept her hands pressed firmly to her ears.

"LOOK AT THE PRETTY BLACK SPOTS THAT KEEP ME COMPANY, THEY ARE SO PRETTY AND NICE AND EXPLOSIVE, WE CAN HOLD HANDS AND NOT LISTEN TO THE STUPID-FLAVORED MOTHERFUCKER!"

She shrieked, trying to drown out the sound of Ghost's voice, and succeeded for a moment...until she was grabbed by the collar and decided that trying to wriggle her way out of the bluenette's grasp was more important than blocking her words.

"I...I WON'T kill anyone. Not again. ShutupshutupshutUP!"

☣  ☠  ☢  ☣  ☠  ☢  ☣  ☠  ☢ ☣  ☠  ☢  ☣  ☠  ☢  ☣  ☠  ☢  ☣  ☠  ☢  ☣  ☠  ☢  ☣  ☠  ☢  ☣  ☠  ☢
❝ Fuck you, Gumby! ❞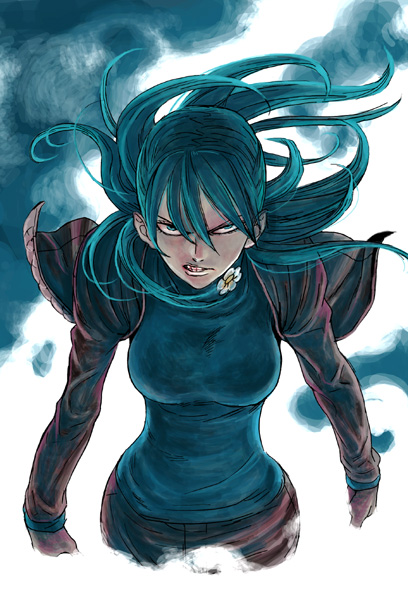 Ghost
___________________________________________________________________________________________
Ghost couldn't help but smile at Ivy's increasingly horrid reaction, yes, soon she would break her. Breaking was always nice, it was just like the old days. Soon she'd have another family member, which was great. After all, only family could be trusted, no one else. She continued to hold onto Ivy, watching her slowly transform before her eyes suddenly widened. The woman suddenly dropped Ivy, a frown on her face "I... ugh... why'd I use it earlier... this is the... worst time..." she muttered to herself. She began to back away from Ivy, her behavior perhaps being even stranger than Ivy's "I... I'll be back sister! I just have to- uh- do things!" the woman then backed away into an alley, disappearing into the shadows. She had to return home for now, but she would keep a close eye on Ivy, she'd be watching.
(EXIT)
___________________________________________________________________________________________
??? Theme - Throw it All Away
☣  ☠  ☢    ﹋﹋﹋﹋﹋﹋﹋﹋﹋﹋﹋﹋﹋﹋﹋﹋﹋﹋﹋﹋﹋﹋﹋﹋﹋﹋﹋﹋﹋﹋    ☣  ☠  ☢
Ivy sort of curled into a ball as soon as Ghost dropped her, not listening to anything the woman said as she disappeared into the shadows. After a while of holding her bleeding wrist, finally stopping the bleeding, and rocking back and forth trying to erase the memory of Ghost, the greenette got up. She needed to find someone. Anyone. She couldn't be alone now, or she might not be able to keep Arma at bay. So she left...yes.

*exit*

☣  ☠  ☢  ☣  ☠  ☢  ☣  ☠  ☢ ☣  ☠  ☢  ☣  ☠  ☢  ☣  ☠  ☢  ☣  ☠  ☢  ☣  ☠  ☢  ☣  ☠  ☢  ☣  ☠  ☢
❝ Fuck you, Gumby! ❞
Page 3 of 3 •
1, 2, 3
---
Permissions in this forum:
You
cannot
reply to topics in this forum